Car Battery Replacement Brisbane – Fast, Affordable, and Reliable
Looking for quick and reliable car battery replacement in Brisbane?
Look no further! At Battery Central Brisbane, we specialize in providing top-quality car battery replacement services that are not only fast and timely but also budget-friendly. Whether you're stranded with a dead battery or planning a proactive replacement, our extensive selection promises the best-priced batteries in the region. We offer fast and best value car battery replacement Brisbane-wide.
FREE Battery, Alternator & Starter Testing
Free delivery in Brisbane, Logan and Ipswich areas
FREE Old Battery Disposal
Huge range to suit all budgets, best price guarantee
Specialist in car battery, ISS Stop Start & other automotive batteries
Call now for a fast roadside response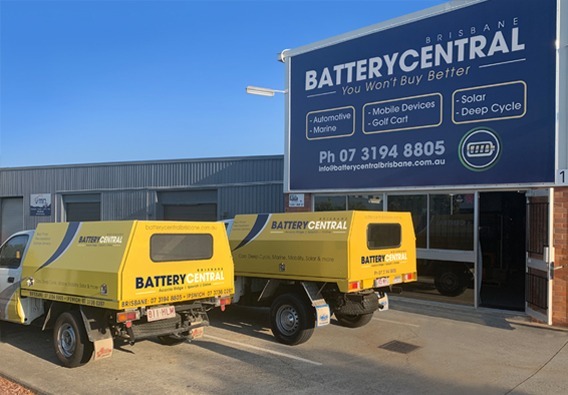 You'll get…
Best price guarantee – being an independent and family owned company gives us flexibility to shop around and bring you a bargain
Speed & Convenience We have dedicated on-road vans to come and help you when you need us the most
Huge range for all makes and models, includes FREE fitting in store, FREE Battery Testing, FREE Alternator & Starter Testing and FREE old battery disposal
Expert advice from your local, experienced team from Brisbane's most innovative, customer focused, wholly Australian, family-owned battery store
Trusted name and relied on by the general public and many of Brisbane's leading car dealers, taxi and mobility scooter companies
Confidence & Peace of mind thanks to our easy-to-use replacement warranty, you'll never be out of pocket in the unlikely event your battery fails before its warranty expires
Join More than 7,680 Brisbaners Who've Driven Away "Powered Up" & Happy with their New, Reliable, Best priced Car Battery Replaced.
Need ISS Stop Start AGM Battery?
Battery Central Brisbane carries a range AGM Stop Start Batteries, all in all well-known brands like Century, Varta, Mixtech, Deltec, Delkor and Power AGM.
Suitable for all brands and models
Great customer service, phoned in the morning and the battery was fitted at my work in time for me to head home.
Onboard eftpos, quality products, friendly and knowledgeable technician and cheaper than anyone else.
Great service, rang at 11:00 and delivered to home by 4:30 as requested same day. Great advice. Strongly recommend.
Great service great price will definitely use these guys again.
Wow, purchased batteries Thursday, delivered Monday morning, fantastic service highly recommend.
Alan is very kind and trust person. I recommend Battery Central Brisbane who need car batteries. He is best and his shop is best in Brisbane.
From Car Dr.
Good service, good price, shame you are not on the northside of Brisbane.
So, what are you waiting for? We are just a click away!
Frequently Asked Questions (FAQs)
How quickly can you replace my car battery?
We pride ourselves on our fast and efficient service. In most cases, we can replace your car battery on the same day, ensuring minimal disruption to your schedule.
Do you have batteries for all car models?
Absolutely! We stock a wide array of batteries suitable for various car models and makes from latest or older models. Whether you drive a compact car, a luxury sedan, or a heavy-duty SUV, we have the right battery for you.
How do I know I'm getting a good deal on my battery?
At Battery Central Brisbane, we offer the best prices for high-quality batteries. We believe in transparent pricing and providing value to our customers, ensuring you get the best deal every time.